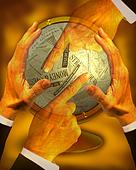 Lattice Strategies will begin trading the Lattice Global Small Cap Strategy ETF (NYSEArca: ROGS) on Tuesday, March 24, 2015.
Here is a synopsis of the new ETF:
FUND INFORMATION:
| | |
| --- | --- |
| Symbol: ROGS | Exchange: NYSE Arca |
| Name: Lattice Global Small Cap Strategy ETF | Expense Ratio: 0.60% |
FUND OBJECTIVE:
The Lattice Global Small Cap Strategy ETF seeks to provide seeks to provide investment results that, before fees and expenses, correspond to the total return performance of the Lattice Risk-Optimized Global Small Cap Strategy Index.
The Fund generally invests at least 80% of its assets in securities of the Index and in depositary receipts representing securities of the Index.
REFERENCE INDEX:
The Lattice Risk-Optimized Global Small Cap Strategy Index is designed to address risks and opportunities within the global (US, developed and emerging countries) small cap universe by selecting equity securities of companies exhibiting a favorable combination of factor characteristics, including valuation, momentum, and quality.
The Index is built with a rules-based, proprietary methodology which employs a multi-layered risk-controlled approach that seeks to address the active risks versus the cap-weighted universe, accounting for country, liquidity and volatility risks. Specifically, the Index seeks to select companies exhibiting attractive risk premia profiles while managing overall volatility levels and active risks. The Index's components are risk- and factor-adjusted twice annually, with reconstitution and rebalance occurring in March and September. The Index was established with a base value of 1000 on December 31, 2013.

Fund Top Components (03/25/15):
CATTOLICA ASSICURAZIONI SCRL COMMON STOCK, 0.56%
LEXMARK INTERNATIONAL INC A COMMON STOCK, 0.56%
SIBANYE GOLD LTD COMMON STOCK, 0.55%
PBF ENERGY INC CLASS A COMMON STOCK, 0.54%
BILIA AB A SHS COMMON STOCK, 0.53%
TELKOM SA SOC LTD COMMON STOCK, 0.53%
DATATEC LTD COMMON STOCK, 0.52%
JB HI FI LTD COMMON STOCK NPV, 0.52%
LIBERTY HOLDINGS LTD COMMON STOCK, 0.52%
APOLLO COMMERCIAL REAL ESTAT REIT, 0.51%

Index Country Allocation (03/23/15):
UNITED STATES 44.23%
JAPAN 11.92%
SOUTH KOREA 5.79%
CHINA 5.35%
TAIWAN 4.63%
AUSTRALIA 4.19%
SOUTH AFRICA 4.04%
CANADA 3.89%
UNITED KINGDOM 3.26%
SWITZERLAND 1.55%

Index Top Sectors (03/23/15):
Financials 18.68%
Industrials 17.10%
Consumer Discretionary 13.24%
Information Technology 7.31%
Health Care 5.79%
Consumer Staples 4.98%
Materials 3.26%
Telecommunication Services 2.90%
Energy 2.39%

Useful Links:
ROGS Home Page

ETFtrack comment:
With ROGS investors can invest in a global small cap stock portfolio providing diversification and allocating risk more efficiently to improve return potential.