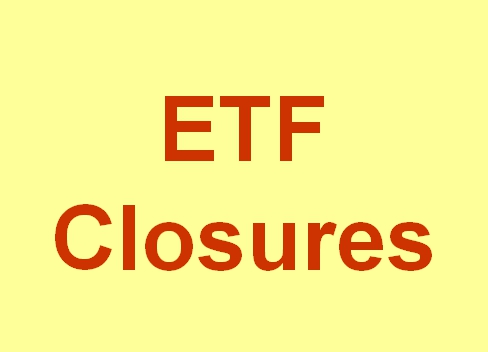 ETF Securities plans to close and liquidate the following funds as part of an ongoing process to review the products made available to investors in order to concentrate its offering on products that experience sufficient investor demand:
Symbol
Name
Commencement of
investment operations
ZLRG
ETFS Zacks Earnings Large-Cap U.S. Index Fund
    01/20/2015
ZSML
ETFS Zacks Earnings Small-Cap U.S. Index Fund
01/20/2015
After the close of business on January 23, 2017, subject to applicable law, ETFS Trust will no longer accept creation and redemption requests in respect of shares of the above funds (the "Shares"). Trading in the Shares on NYSE Arca will be suspended prior to the market opening on January 24, 2017.
Proceeds of the liquidation will be paid to the shareholders remaining in each fund on or about January 30, 2017. When the fund commences liquidation of its portfolio securities, the fund may hold cash and securities that may not be consistent with the fund's investment objective and strategy. During this period the fund is likely to incur higher tracking error than is typical for the fund.
Shareholders may sell their Shares on NYSE Arca until the market close on January 23, 2017, and may incur typical transaction fees from their broker-dealer. At the time the liquidation of the funds is complete, Shares will be individually redeemed. For shareholders that still hold Shares as of January 30, 2017 Shares will automatically be redeemed for cash at the net asset value as of close of business which will reflect the costs of closing the fund. Shareholders will generally recognize a capital gain or loss on the redemptions. The funds may or may not pay one or more dividends or other distributions prior to or along with the redemption payments.