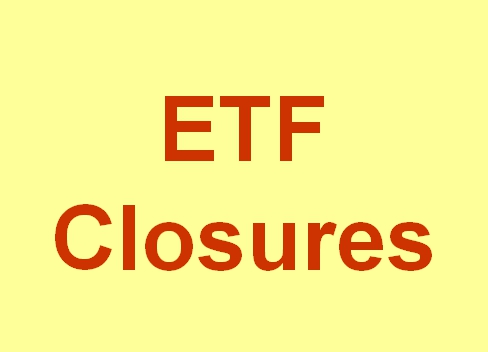 The Board of Trustees of the Direxion Shares ETF Trust has decided to liquidate and close the Direxion Daily MSCI Europe Currency Hedged Bull 2x Shares (HEGE) and the Direxion Daily MSCI Japan Currency Hedged Bull 2x Shares (HEGJ) based on the recommendation of Rafferty Asset Management, LLC,  the Trust's advisor.
Due to the Funds' inability to attract sufficient investment assets, Rafferty believes they cannot continue to conduct their business and operations in an economically efficient manner. As a result, the Board concluded that liquidating and shuttering the Funds would be in the best interest of the Funds and their shareholders.
Shares of the Funds will stop trading on the NYSE Arca, Inc., and will no longer be open to purchase by investors, at the close of regular trading on May 20, 2016 (Closing Date). Shareholders may sell their holdings in each Fund prior to May 20, 2016, and those transactions may be subject to customary brokerage charges. Between May 23, 2016 and May 27, 2016 (Liquidation Date), shareholders may only be able to sell their shares to certain broker-dealers and there is no assurance that there will be a market for the Funds during that time period. Between the Closing Date and the Liquidation Date, each Fund will be in the process of closing down and liquidating its portfolio. This process will result in each Fund increasing its cash holdings and, as a consequence, not tracking its underlying index, which may not be consistent with each Fund's investment objective and strategy.
On or about the Liquidation Date, the Funds will liquidate their assets and distribute cash pro rata to all remaining shareholders who have not previously redeemed or exchanged their shares. These distributions are taxable events. In addition, these payments to shareholders will include accrued capital gains and dividends, if any. As calculated on the Liquidation Date, each Fund's net asset value will reflect the costs of closing the Fund. Once the distributions are complete, the Funds will terminate.