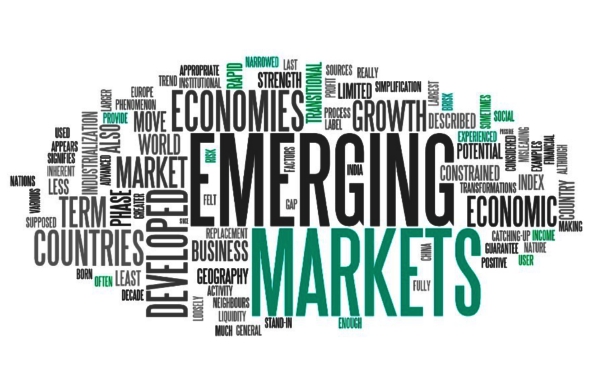 J.P. Morgan Asset Management, begun trading a new Emerging Markets Bond ETF, the JPMorgan USD Emerging Markets Sovereign Bond ETF (NyseArca: JPMB), on Tuesday, January 30, 2018. Here is a synopsis of the new ETF:
FUND INFORMATION:
| | |
| --- | --- |
| Symbol: JPMB | Exchange: NYSE ARCA |
| Name: JPMorgan USD Emerging Markets Sovereign Bond ETF | Net Expense Ratio: 0.39% |
FUND OBJECTIVE:
The JPMorgan USD Emerging Markets Sovereign Bond ETF seeks investment results that closely correspond,before fees and expenses, to the performance of the JPMorgan Emerging Markets Risk-Aware Bond Index.
The Fund will invest at least 80% of its Assets in securities included in the Underlying Index. The Fund may invest without limit in securities that are rated below investment grade (also known as junk bonds or high yield securities) by Moody's Investor Service, Inc. (Moody's),Standard & Poor's Corporation (S&P), Fitch Ratings (Fitch) orthe equivalent by another national rating organization or securities that are unrated but are deemed by the adviser to be of comparable quality.
As part of its principal investment strategy, the Fund may invest in private placements. The Fund's debt investments are not subject to specific duration or average weighted maturity limitations.The Fund may invest up to 20% of its assets in exchange-traded futures contracts, credit default swaps and other ETFs to seek performance that corresponds to the Underlying Index, particularly in emerging markets where it is otherwise difficult to gain access, as well as insecurities not included in the Underlying Index, but which the adviser believes will help the Fund track the Underlying Index.
REFERENCE INDEX:
The JPMorgan Emerging Markets Risk-Aware Bond Index is comprised of liquid, U.S. dollar-denominated sovereign and quasi-sovereign fixed and floating rate debt securities from emerging markets selected using a rules-based methodology that was developed and is owned by the adviser.
The Index defines "quasi-sovereign debt securities"as debt securities issued by an entity that is 100% guaranteed or 100% owned by a national government. The Underlying Index is maintained and calculated by J.P. Morgan Securities LLC (Index Provider), which selects securities in accordance with the methodology from among the components of the J.P. Morgan Emerging Market Bond Index Global Diversified, which was developed and is maintained by the Index Provider. The Index Provider and the adviser are both wholly-owned subsidiaries of JPMorgan Chase & Co., a publicly-held financial services holding company.
The Underlying Index starts with the J.P. Morgan Emerging Market Bond Index Global Diversified and applies a proprietary methodology that filters for liquidity and for country risk and allocates risk based on credit rating. Historically, the J.P. Morgan Emerging Markets Bond Index Global Diversified has included bonds issued by the countries of Angola, Argentina, Armenia, Azerbaijan, Belize,Bolivia, Brazil, Cameroon, Chile, China, Colombia, Costa Rica, Cote D'Ivoire, Croatia, Dominican Republic, Ecuador, Egypt, El Salvador, Ethiopia, Gabon, Georgia, Ghana, Guatemala, Honduras, Hungary, India, Indonesia, Iraq, Jamaica, Jordan, Kazakhstan, Kenya, Latvia, Lebanon, Lithuania, Malaysia,Mexico, Mongolia, Morocco, Mozambique, Namibia, Nigeria, Oman, Pakistan, Panama, Paraguay, Peru, Philippines, Poland,Romania, Russian Federation, Senegal, Serbia, Slovakia, South Africa, Sri Lanka, Suriname, Trinidad and Tobago, Tunisia,Turkey, Ukraine, Uruguay, Venezuela, Vietnam, Zambia; how-ever, this universe of countries may change in accordance with the Index Provider's determination of eligible emerging market countries and there is no assurance that a particular country will be represented in the Underlying Index at any given time.
FUND HOLDINGS (02/02/18):
| | |
| --- | --- |
| ECUA REPUBLIC OF 7.95% 06/24 | 1.49% |
| MEX UNITED 4.125% 01/26 | 1.49% |
| EGYPT ARAB 5.875% 06/25 | 1.48% |
| TURKEY REPUBLIC OF 6.25% 09/22 | 1.48% |
| SRILAN DEMOCRATIC 6.85% 11/25 | 1.48% |
| LEBAN LEBANESE 8.25% 04/21 | 1.47% |
| RUSSIA RUSSIAN 12.75% 06/28 | 1.47% |
| DOMREP DOMINICAN 7.45% 04/44 | 1.46% |
| SERBIA SERBIA 7.25% 09/21 | 1.46% |
| ESKOM ESKOM 7.125% 02/25 | 1.45% |

Useful Links:
JPMB Home Page

Category: Bonds> International Bonds> Emerging Markets Treasury
ETFtrack comment:
Here is a comment from Joanna Gallegos, U.S. Head of ETFs for J.P. Morgan Asset Management:
"Fixed income ETFs continue to revolutionize investing by providing access to an often challenging asset class in a liquid, transparent and cost-effective vehicle. With JPMB, clients can gain exposure to emerging market debt, which is a growing component of global bond markets, and it can serve as a diversifier to a core bond portfolio."