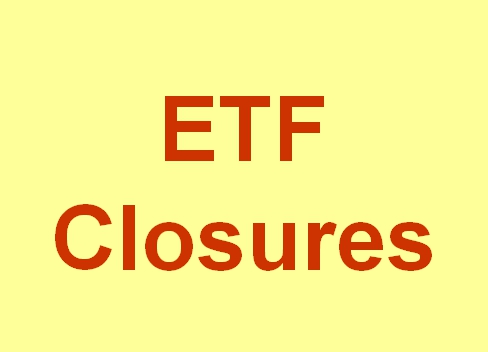 Highland Capital Management Fund Advisors, L.P., investment adviser to:
Highland HFR Equity Hedge ETF (HHDG),
Highland HFR Global ETF (HHFR) and
Highland HFR Event-Driven ETF (DRVN),
announced today that it will be closing and liquidating the Funds effective April 11, 2016.
Highland has chosen to focus on core products and will continue offering the Highland/iBoxx Senior Loan ETF (SNLN).
Highland announced that the last date for authorized participants to create units in HHDG, HHFR and DRVN will be April 11, 2016 and the last date to redeem shares will be on or before 4:00 PM EST on April 13, 2016.
The last day of trading for HHDG, HHFR and DRVN on the NYSE Arca (Cessation Date) is expected to be April 11, 2016, after which the Funds shall cease their business as investment companies and shall not engage in any business activities except for the purpose of winding up their business affairs, preserving the value of their assets, discharging or making reasonable provision for the payment of all their liabilities, and liquidating and distributing their remaining assets to the shareholders of the Funds.
The proportionate interests of the shareholders in the net assets of each Fund will be fixed on the basis of their respective share holdings at the close of business on April 11, 2016.
On or about April 14, 2016, each Fund shall make to each shareholder of record of the applicable fund as of the Cessation Date a liquidating distribution equal to the shareholder's proportionate interest in the net assets of the Fund, in the form of either the cash or cash equivalents into which the portfolio securities of the Fund were converted.  The liquidation of each Fund will be a taxable event for shareholders that do not hold shares through tax-advantaged arrangements.